The New England state Massachusetts, located on the northeastern coast of the United States, attracts with its spectacular Berkshires to the west, historic Plymouth to the east, beautiful beaches, charming small islands and quaint villages, and the stunning metropolis of Boston. GIA undertakes public relations efforts on behalf of MOTT in Germany, primarily with assistance in the planning and exeution of qualified press fam tours.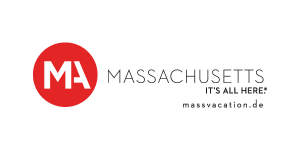 In gut zwei Wochen ist es wieder soweit und im Dolby Theater in Los Angeles heißt es zum 92. Mal: "And the Oscar goes to…". Besonders stolz ist der US-Bundesstaat Massachusetts auf die sechsfache Nominierung von "Little Women". Der Film mit Emma Watson, Saoirse Ronan und Meryl Streep wurde in Massachusetts an der amerikanischen Ostküste gedreht.
Wenn die Tage sonnig und die Nächte kühl sind, weiß man in Massachusetts, dass der Herbst vor der Tür steht und mit ihm die wohl schönste Zeit im zu Neuengland gehörenden US-Bundesstaat an der Ostküste. Prächtig verfärbte Laubbäume, frisch geerntetes Obst und zahlreiche Events warten im Indian Summer auf Besucher. Hier sind vier Ideen, den goldenen Herbst in Massachusetts zu genießen.
Im Boston Common blühen die ersten Frühlingsblumen und auf den Inseln Cape Cod, Martha's Vineyard und Nantucket freut man sich auf ausgedehnte Spaziergänge am Strand durch die herrliche Frühlingsluft. Der Bay State Massachusetts ist ein wunderbares Reiseziel in den warmen Monaten und neben zahlreichen Outdooraktivitäten warten kulinarische Erlebnisse, neue Unterkünfte und viele einzigartige Jubiläen.